Meet Tammy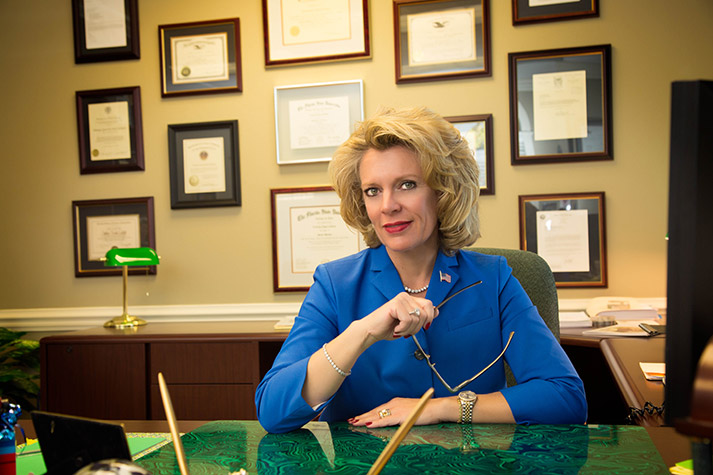 Tammy de Soto Cicchetti had the chops to go to Julliard and become a professional classical musician. Instead, she did things her way and enrolled in law school.
She could have taken a slow start into her career as an attorney. Instead, she did things her way and won her first jury trial at just 24 years old.
Tammy could have continued to work as an attorney and shareholder for someone else's firm. Instead, she did things her way and opened her own practice. All while balancing the demands of her growing family, and all before the age of 30.
Tammy has been doing things her way from the beginning, and today she is a role model for business management, legal expertise, female entrepreneurship and community involvement.
A proven trial and appellate attorney and sought-after consultant and witness, Tammy has grown The Cicchetti Law Firm into a premier Tallahassee law firm known for taking on difficult insurance matters including those involving coverage and extra contractual liability claims. The firm boasts more than 25 years of experience in successfully handling insurance litigation from the plaintiff and defense sides.
With a solid reputation in North Florida for handling complicated cases, Tammy practices in all state and appellate courts in the State of Florida and has been admitted to practice in the United States Federal District Court for the Northern and Middle District Courts of Florida and the Eleventh Circuit Court of Appeals in Atlanta, Georgia. She handles matters at the trial and appellate levels and has been appointed to numerous state and national legal and business advisory positions including the Florida Judicial Nominating Committee and the President's National Business Advisory Council.
Tammy established herself as a major player in the courtroom shortly after graduating from Florida State University's law school, when at age 24 she won her first jury trial. Just three years later, she became the managing partner for the Tallahassee law firm of Callahan & Cicchetti, P.A., where she managed a firm of 25 employees and specialized in insurance defense work, serious personal injury, wrongful death claims, and medical and legal malpractice matters—for both those bringing lawsuits and those in need of defense in a lawsuit.
In 1997, at age 29, Tammy launched The Cicchetti Law Firm.
The Cicchetti Law Firm has since built a solid reputation for handling complicated insurance and injury cases with honesty, integrity and professionalism that set the firm and its team of attorneys apart – as evidenced by their long roster of satisfied clients and winning cases. From personal injury and wrongful death to bad faith, Tammy de Soto Cicchetti is the attorney that even the most seasoned attorneys turn to for guidance and counsel.
Tammy leads the firm with the same determination, poise and savvy that she honed during her adolescence as a classically trained musician, learning to play 14 different instruments and traveling the world to play with the London Symphony Orchestra and others. After a summer on tour in Europe with a congressional Good Will Symphony, representing the State of Florida, Tammy decided to withdraw her application to Julliard and leave music as a hobby to purse law as a career. In 1998, after just three years at the Florida State University, she graduated with a Bachelor of Arts degree. She went on to graduate from The Florida State University College of Law in 1991.
The granddaughter of a painter and concert pianist who worked for Cuba's Fulgencio Batista, Tammy's commitment to family runs deep. Outside the office and courtroom, Tammy is a busy wife and mother of two school-age children who juggles the family's multiple appointments – soccer games, volleyball, family trips – in a color-coded calendar on her iPad. She doesn't have much free time, but she uses it to practice her shooting skills at the local firing range, paint, scuba dive, and cook elaborate meals using recipes handed down from her Cuban grandparents.
Some of Her Clients (Past and Present)
Florida Association of State Troopers
Allstate
Allstate Indemnity Company
Allstate Commercial Insurance Company
GEICO
GEICO Direct Insurance Company
GEICO General Insurance Company
GEICO Indemnity Insurance Company
Florida Farm Bureau Insurance Company
Travelers Insurance Company
The Travelers Indemnity Company
St. Paul Insurance Company
Northland Insurance Company
Bridgeworks Adjusting Company
Crawford & Company
Mercury Insurance Company
MetLife Auto & Home
North American Specialty Insurance Company
North American Capacity Insurance Company
AIG
First Trenton Insurance Company
American National Property & Casualty Insurance Company
Auto Club South Insurance Company
First Floridian Auto & Home Insurance
Commercial Carriers Insurance Company
American Reliable Insurance Company
Zurich, N.A.
Main Street Insurance Company
One Beacon Insurance Company
USAA
North Pointe Insurance Company
CAA Insurance Company
Capital Insurance Agency
Capital Casualty Insurance Company
Knight-Ridder Inc.
Energizer Battery Inc.
Albertson's of Florida, Inc.
RGV Insurance
State of Florida, Department of Financial Services, Division of Risk Management
Economy Premier Assurance Company
Horace Mann Insurance Company
The Personal Insurance Company (Canada)
Desjardins Insurance Company (Canada)
Strictly Wholesale, Inc.
AMC Theaters
SW Fla Enterprises Bonita/Ft Myers Greyhound
Wynn Transport
Choice Investments, Inc.
Florida Department of Transportation
GPI Southeast, Inc.
Old Dominion Insurance Company
PACCAR Financial
Burger King
Tallahassee Communications Industries, Inc.
Panama City Mall
US Agencies
Federation of Chiropractic Licensing Boards
Anchor Realty
Long Beach Resort Management, LLP
KES Grocery, Inc.
Wood Energy, Inc.
Edgewater Beach Resort, LLC
Teacher's Insurance Company
Atlantic Casualty Insurance Company
PSL Town Center, Inc.
Dunes of Panama Management Association
FMP Tallahassee, Inc.
Awards and Appointments
National Businesswoman of the Year, State of Florida (2004, 2005 and 2006)
Chairman, State of Florida, Business Advisory Council
Chairman from Florida for House Majority Trust (2006)
Co-chair, State of Florida, President's National Business Advisory Council
National Leadership Award, Presidential Business Advisory Council
Selected to be a member of the President's Committee on Tax reform (2006)
2006 Partnership in Excellence Award
Florida Judicial Nominating Committee (Jeb Bush appointee, 2006)
Vice-Chair, Florida Judicial Nominating Committee (2007)
Chair, Florida Judicial Nominating Committee (2008)
Vice-Chair, Judicial Nominating Committee of the American Judicature Society (AJS)
Congressional Order of Merit, National Republican Congressional Committee (2006, 2007)
Congressional Order of Merit, National Republican Congressional Committee Presidential Commission (2008)
Member, Million Dollar Roundtable, National Republican Congressional Committee Business Advisory Counsel (2006).
Master of the Bench, William H. Stafford Inn of American Inns of Court (since 2003)
Second Judicial Circuit Grievance Committee, Florida Bar
Special Counsel, Florida Bar (2001)
Named one of five Florida Super Lawyers in Personal Injury Defense in the Big Bend (2006, 2008, 2009, 2010)
Named a Super Lawyer in Business Litigation and Insurance Coverage in the Big Bend
Received a Personal Invitation to the 55th American Presidential Inauguration
Ronald Reagan Gold Medal Award for Outstanding Business Leadership (2005)
General Counsel, Tallahassee Tiger Sharks Hockey Team
General Counsel, Tallahassee Scorpions indoor Soccer Team
General Counsel, Tallahassee Arena Football Team
Professional Organizations and Community Involvement
Tammy Cicchetti is a current or past member of:
Florida Bar
Tallahassee Bar Association
American Bar Association
American Inns of Court, William H. Stafford Inn, Alumni
Academy of Florida Trial Lawyers
Tallahassee Women Lawyers' Association
Florida Academy of Women Lawyers
Florida Defense Lawyers' Association
Tallahassee Chapter, American Inns of Court
National Register's Who's Who in Executives and Professionals
Keiser University, Board of Directors
Zonta Club International
Florida Defense Lawyers' Association
Phi Eta Sigma Honor Society
Gold Key Honor Society
Big Brothers, Big Sisters, Board of Directors;
Executive Committee of the Tallahassee Sports Council;
National Association for Women in Construction;
Tallahassee Builders' Association
Defense Research International
Member USCCA Law Network
Publications
Florida Corporate Practice (2002, 2003)